Show Me Hope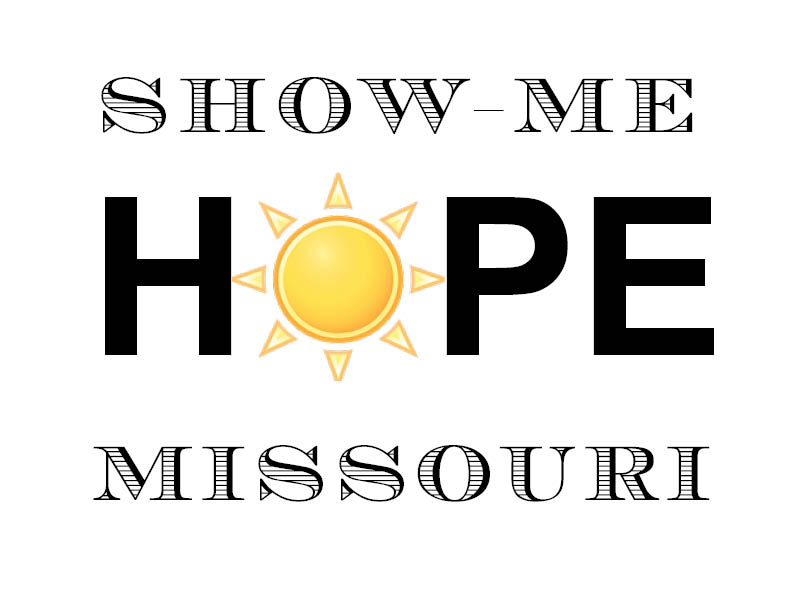 Missouri receives Show Me Hope Crisis Counseling Program grant to help citizens cope with the effects of COVID-19
[Jefferson City, MO] – In response to the COVID-19 pandemic, the Department of Mental Health was awarded a $2.27 million Crisis Counseling Program (CCP) grant by the Federal Emergency Management Agency (FEMA). The Show Me Hope CCP funding will provide behavioral health services to Missourians who are emotionally troubled by the pandemic. Crisis counselors statewide will deliver stress management and resource referral to citizens feeling the stress and emotional strain caused by COVID-19. The Show Me Hope team will assistance Missourians in building hope and resiliency for the future.
Counties and contact information for the 24 Community Mental Health Centers (CMHCs) participating in the CCP are listed at the end of this release.
A Crisis Counseling Program traditionally helps people recover and rebuild their lives after a disaster. Counselors offer short-term interventions including:
Helping disaster survivors understand their current situation and reactions
Reducing stress and providing emotional support
Assisting survivors in reviewing their disaster recovery options
Promoting the use or development of coping strategies
Connecting survivors with other people and agencies who can help them in their recovery process
Show Me Hope follows these key principles that are different from other survivor support programs:
Strengths-based: CCP services promote resilience, empowerment, and recovery.
Anonymous: Crisis counselors do not classify, label, or diagnose people. No records or case files are kept.
Outreach-oriented: Crisis counselors deliver services in the communities rather than wait for survivors to seek their assistance.
Conducted in nontraditional settings: Crisis counselors usually make contact in homes and communities, not in clinical or office settings. During COVID-19, services and outreach will be done using virtual technology.
Designed to strengthen existing community support systems: The CCP supplements, but does not end or replace, existing community systems.
Show Me Hope crisis counselors are available to any Missourian experiencing stress or emotional strain due to COVID-19. Citizens may also contact the Disaster Distress Helpline 24 hours a day, seven days a week at 1-800-985-5990 (for Spanish, press "2") or send a text message to 1-800-985-5990 and be connected to a trained crisis counselor, anytime.

The following is the list of CMHCs, phone numbers and the counties in their coverage area.
ALM Hopewell: 314-531-1770
St. Louis City, St. Louis County.
Arthur Center: 573-582-1234
Audrain, Callaway, Monroe, Montgomery, Pike, Ralls.
BJC Behavioral Health: 314-206-3700
Iron, St. Francois, St. Louis City, St. Louis County, Washington.
Bootheel Counseling Center: 573-471-0800
Mississippi, New Madrid, Scott, Stoddard.
Burrell Behavioral Health: 417-761-5000
Boone, Carroll, Chariton, Christian, Cooper, Dallas, Greene, Howard, Moniteau, Morgan, Pettis, Polk, Randolph, Saline, Stone, Taney, Webster.
Clark Community Center: 417-476-1000
Barry, Dade, Lawrence.
Community Counseling Center: 573-334-1100
Bollinger, Cape Girardeau, Madison, Perry, Ste. Genevieve.
Compass Health Network: 660-885-8131
Bates, Benton, Camden, Cass, Cedar, Cole, Crawford, Dent, Franklin, Gasconade, Henry, Hickory, Johnson, Laclede, Lafayette, Lincoln, Maries, Miller, Osage, Phelps, Pulaski, St. Charles, St. Clair, Vernon, Warren.
Comprehensive Mental Health Services: 816-254-3652
Jackson
COMTREA: 636-296-6206
Jefferson.
Family Counseling Center: 573-888-5925
Butler, Carter, Dunklin, Pemiscot, Reynolds, Ripley, Wayne.
Family Guidance Center: 816-364-1501
Andrew, Atchison, Buchanan, Clinton, DeKalb, Gentry, Holt, Nodaway, Worth.
Gibson Recovery Center: 573-332-0416
Bollinger, Cape Girardeau, Madison, Mississippi, Perry, Ste. Genevieve, Scott.
Mark Twain Behavioral Health: 573-221-2120
Adair, Clark, Knox, Lewis, Macon, Marion, Schuyler, Scotland, Shelby.
North Central MO Mental Health Center: 660-359-4487
Caldwell, Daviess, Grundy, Harrison, Linn, Livingston, Mercer, Putnam, Sullivan.
Ozark Center: 417-347-7600
Barton, Jasper, McDonald, Newton.
Phoenix Programs: 573-875-8880
Boone, Carroll, Chariton, Cooper, Howard, Moniteau, Morgan, Pettis, Randolph, Saline.
Places for People: 314-535-5600
St. Louis City, St. Louis County.
Preferred Family Healthcare: 660-665-1962
Adair, Caldwell, Clark, Daviess, Grundy, Harrison, Knox, Lewis, Linn, Livingston, Macon, Marion, Mercer, Monroe, Pike, Putnam, Ralls, Schuyler, Scotland, Shelby, Sullivan.
ReDiscover: 816-966-0900
Jackson.
Southeast MO Behavioral Health: 573-756-5749
Butler, Carter, Crawford, Dent, Douglas, Gasconade, Howell, Iron, Oregon, Ozark, Phelps, Pulaski, Reynolds, Ripley, Shannon, St. Francois, Stoddard, Texas, Washington, Wayne Wright.
Swope Health Services: 816-923-5800
Jackson.
Tri-County Mental Health Services: 816-468-0400
Clay, Platte, Ray.
Truman Medical Center Behavioral Health: 816-404-5700
Jackson.
MTBH has offices located in Hannibal, Kirksville and Macon, Missouri. Hannibal and Kirksville offices are open for business Monday through Friday from 8 AM till 5 PM. Special appointment times may be available upon request. Our Macon office hours of operation vary and appointments may be scheduled by contacting that location.